Features Include
Log tickets quickly with Multi-Channel Support
No matter where you are or what device you are on, logging a ticket has never been easier
Email
Convert and organize emails into tickets with our automatic "Email to Ticket" parser.

Self Service Interface
The individually branded Self Service Interface provides a personalized experience for your end users and their managers to log new tickets, view current tickets and dashboards.
Chat
Connect with users and solve issues quickly using Live Chat.
Revelation is with you for the entire issue lifecycle
Set up pre-defined action notes, which you can access through a drop down, within any open ticket in Revelation. Quick notes can be grouped and associated by end user, group, team, and more as is needed.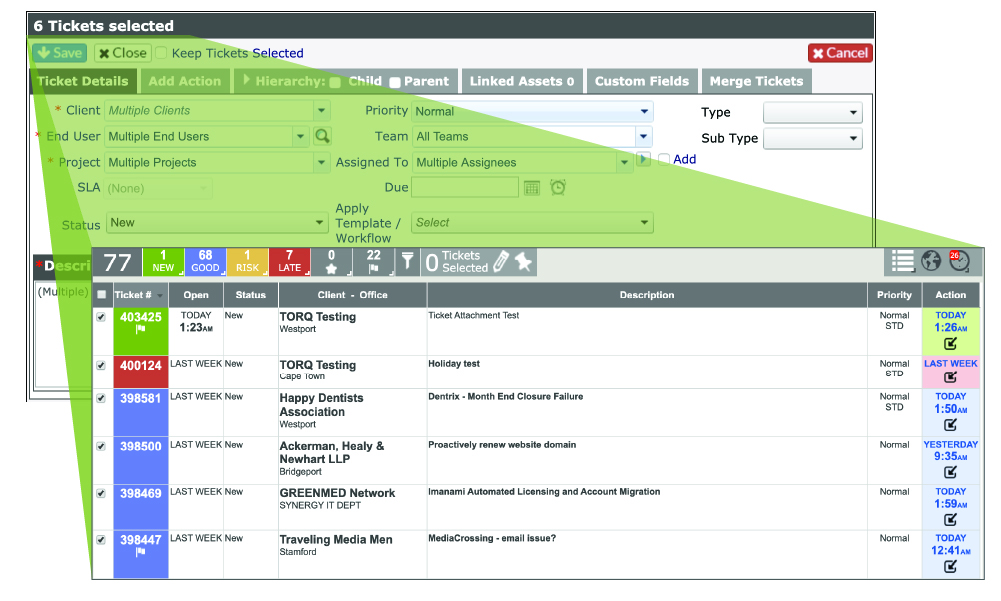 Editing multiple tickets with a similar action note is easier than ever with Revelation's Multi-Edit capability. Multi-Edit can be used to add an identical action note to multiple tickets, add billable time to several tickets, or even move tickets to different clients or projects.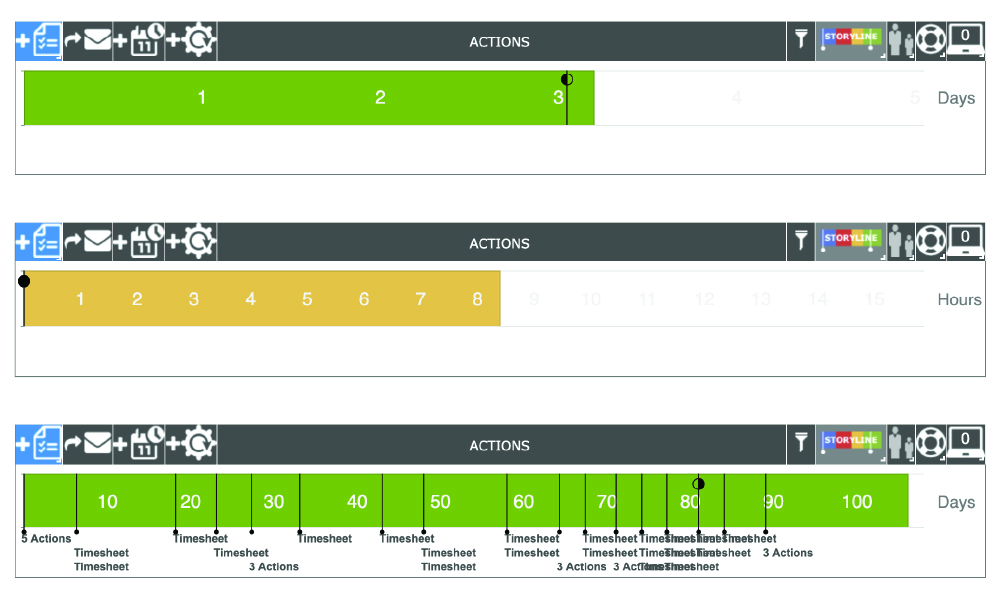 View a colorful visual summary of your ticket's activity from the time logged until completion with Revelation's Storyline feature. Storyline shows a timeline of system notes, how long a ticket has been open, status of ticket is also shown by color. This feature can be customized to be enabled or disabled by either access level or by team.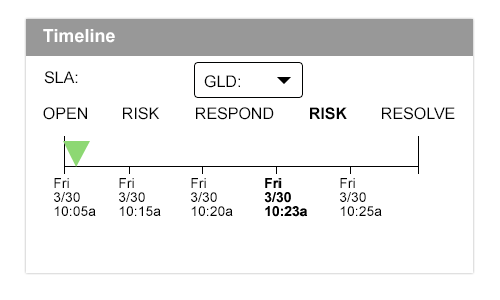 On the left hand side of the ticket screen the Revelation Ticket Timeline is available to view. The timeline shows the placement of a ticket status within an SLA timeline to quickly visualize where a ticket is in comparison to its due date. Timeline progress changes color according to ticket status, and next milestone dates are bolded for easy scanning.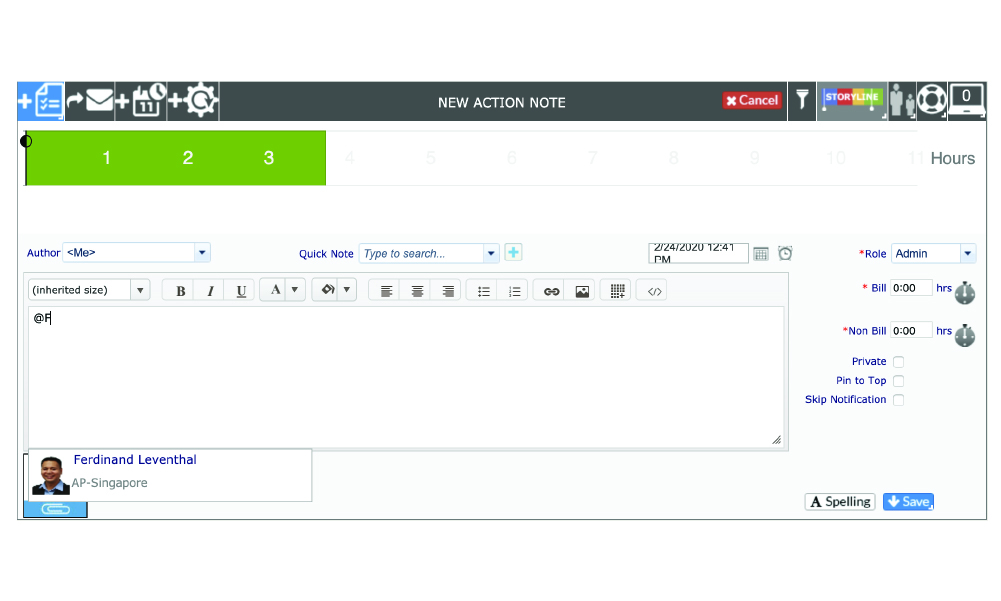 Tag other Revelation users within a ticket to notify them of new developments for a ticket or to add them to a specific ticket. The tagged user will receive notifications within their Message Feed or Activity to alert them they have been tagged, and if enabled, the tagged user will also receive email notification of this action.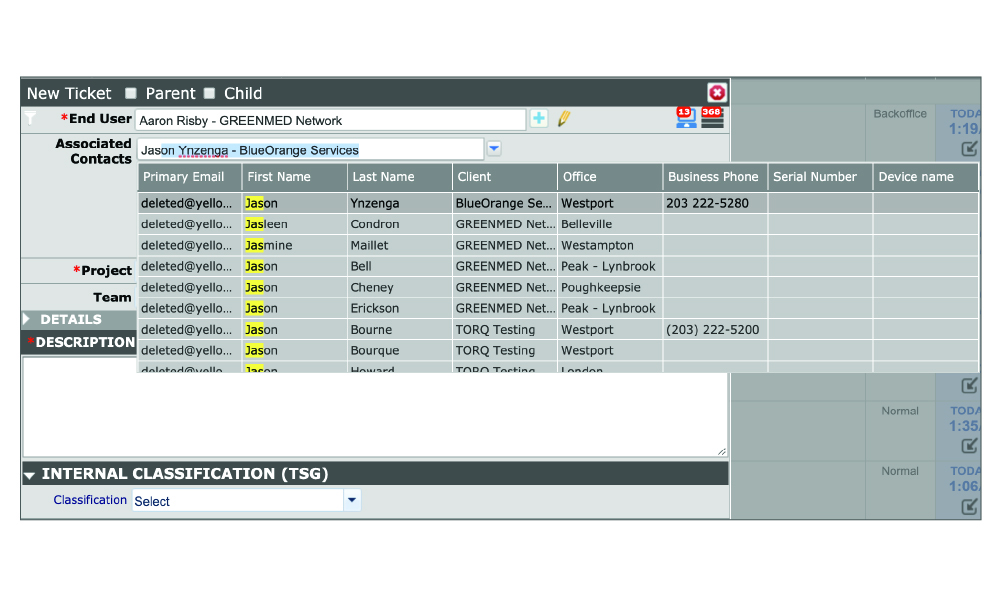 If you would like other external users to receive updates on ticket progress as the end user does, you can enable Associated Contacts feature to the ticket. Any end user name that is in the system can be associated to the ticket within Revelation. Associated Contacts can also be utilized if the ticket is submitted via email. For example, if an end user submits a ticket and cc's other users in the email, the cc'd users will appear as Associated Contacts to the ticket in Revelation.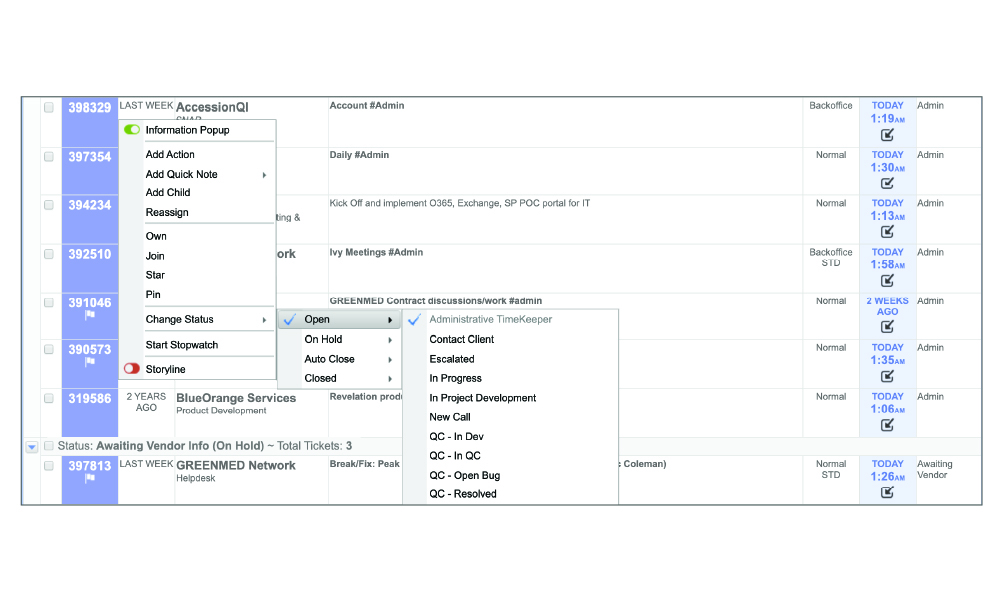 Revelation has three main types of ticket status's, such as "Open", "On Hold", and "Closed". These main status types can be customized at a sub-level to meet your needs. For example, you can have numerous auto-close or hold statuses, such as "Auto-Close 2 days", "Auto-Close 4 hours", "Open – On Hold", or even "On Hold until..".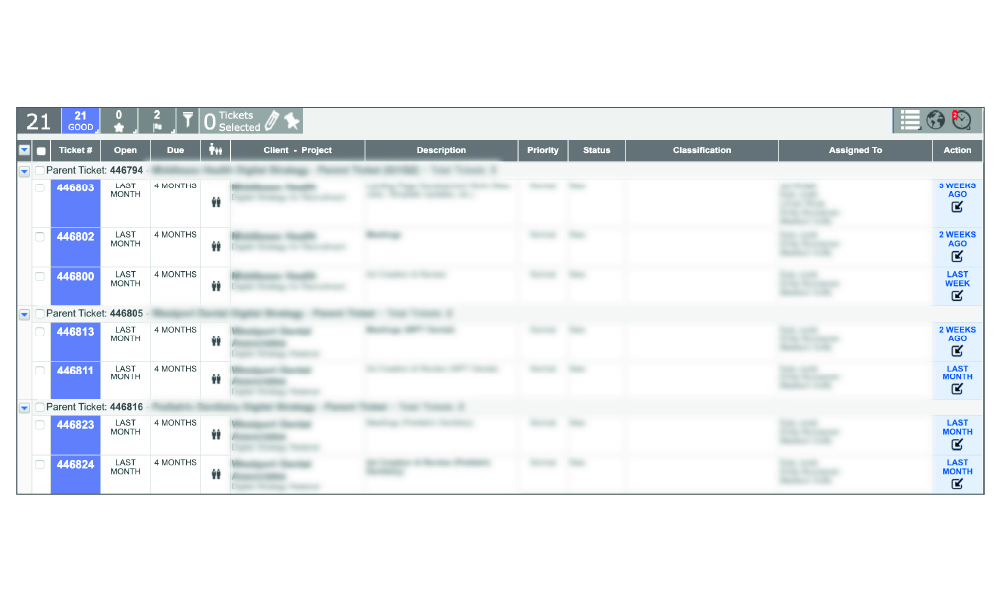 Revelation has the capability to set up Parent/Child tickets. Parent/Child tickets tie multiple, related tickets together. When you open a Parent Ticket, a list of the associated Child tickets will be visible on the Ticket Details screen.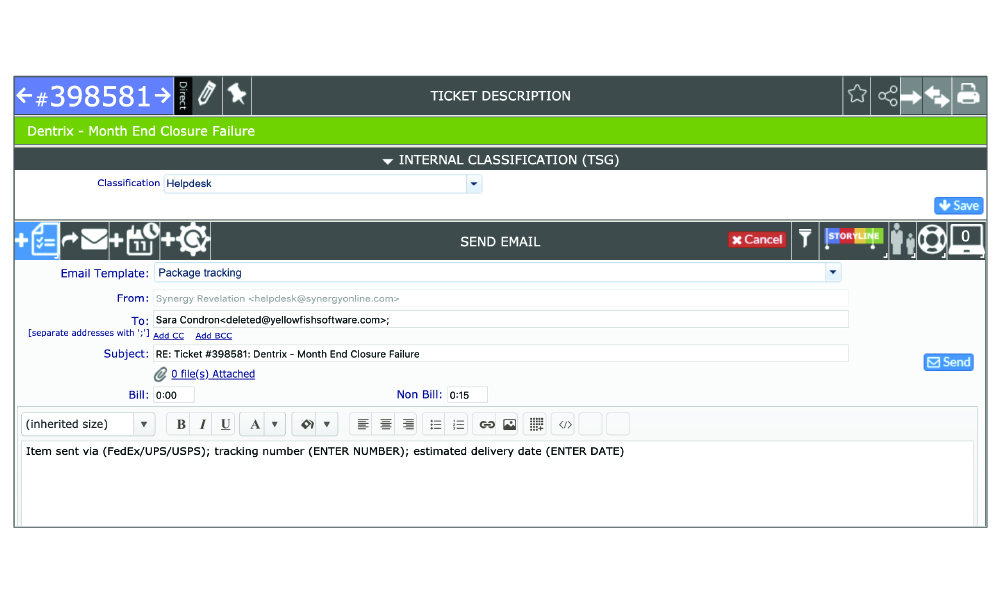 Email templates can be set up to provide standardized email for specific responses to tickets in Revelation, so that you never have to leave the ticket or Revelation to communicate with the end user.
Transparent Feature Set
Revelation helpdesk provides a true Transparent Feature Set. This means that almost all the features that Revelation possesses can be enabled or disabled on customizable levels, so you only see features that you will utilize every day. This allows for non-bloated user experience. Our feature set is customizable on the Admin level, Support Team level, and End User Level.

Admin

Support Team

End User
So, if you only want administrators to view or have access to certain features or want your different support teams to only view and interact with features that are only relevant to their team, you can. Our features can also be customizable by end user, so that your customers have the best user experience.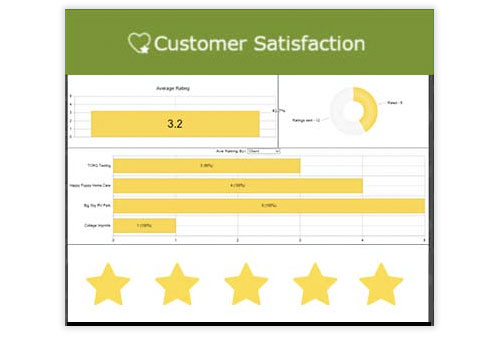 Revelation helpdesk is equipped with Customer Satisfaction surveys and report capabilities. In the main navigation, you can view Customer Satisfaction reports, which can be filtered and adjusted by multiple data points, including, but not limited to, Client Type, Client, Region, Rating levels, Assigned Team/Staff.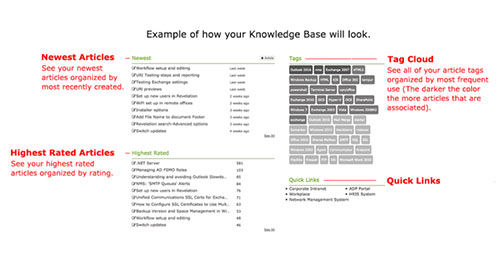 Revelation helpdesk has an extensive Knowledge Base that comes as part of the system options. You can choose to enable or disable this feature at any time. If enabled, users will be able to search the Knowledge Base for articles within the Search function, when logging a ticket, or even within an Action Note. Articles found can even be linked to a ticket action.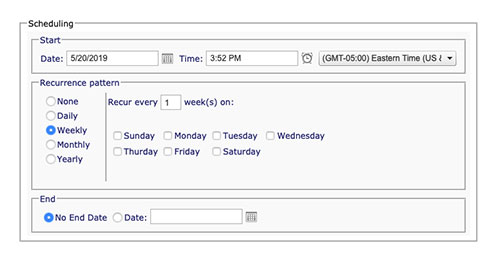 To assist with automating certain processes that should happen on a regular basis, such as reporting, certain workflows or ticket templates, you can enable the Scheduled Events feature. This feature enables Revelation to generate a new ticket at pre-defined times or on a recurring schedule.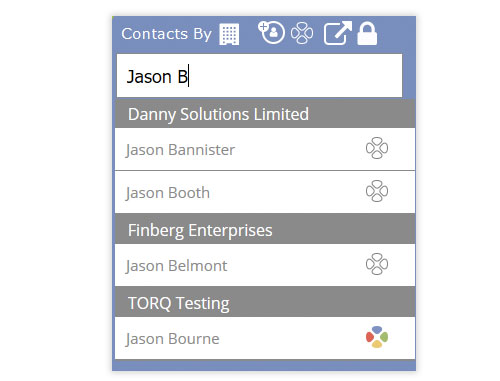 The Contacts feature is a great tool to allow you work seamlessly without leaving the current page you are on to find more information about an end user. The Contacts feature, when enabled, will appear on the right hand side of your screen as a pop-up. From there, you can search for any contact that exists in Revelation along with their pertinent information (e.g. Access level, Email, Phone, Office Address). This feature can be enabled by admins to be viewed by access level or team.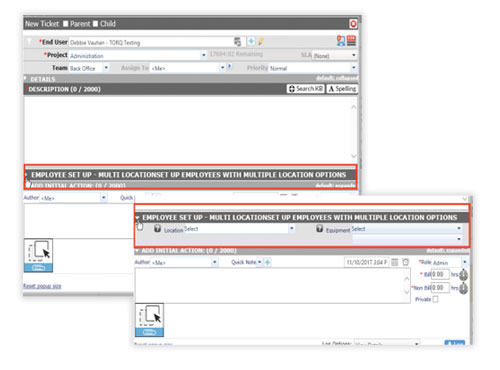 Custom Fields allows Administrators and Super Administrators to create and edit custom fields to be included when logging or closing a ticket. These custom fields can be searchable and reportable, just like the existing fields.
Branding
We know that having a help desk that feels like an extension of your brand, rather than just a tool you utilize is important. Make Revelation your own by importing your brand colors, logos, and even terminology into the system externally by End User, such as on the Self Service Interface or internally for the company or at the team level.

Internal By Team
Revelation helpdesk can be branded internally overall to match your business's colors and logos but can also be branded individually by department or team. Each team/department could carry their own unique banners, reporting headers, and color scheme.

External By End User
Revelation helpdesk can also be branded externally for end users, such as the Self Service Interface. If the Self Service Interface is enabled, then administrators can customize what end users will see depending on client type or name. This means that certain clients or client types will see customized navigation, chat branding, or even logos depending on the criteria set by administrators.

Different style logos can be set at different levels, such as internal vs external, and by section of Revelation. Logos can be customized for the login page, the main navigation banner, on reports, and in chat.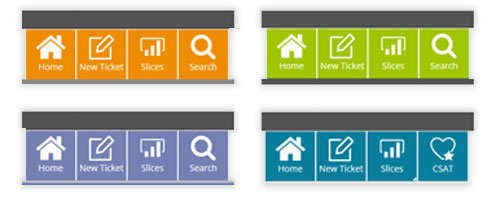 Background and color schemes can be customized to reflect your company culture and branding. These customizations can be achieved for the login page and the internal backgrounds, and if enabled, the Self Service Interface.

Revelation helpdesk can even be branded by customizing system phrasing to match your company culture.
Automation
Revelation helpdesk is equipped with easy to use automations that can help streamline your processes.
Scheduled Events
Certain events can be set up to be scheduled by an administrator to automate features and tools, such as reports, searches, ticket templates, and workflows. Each Scheduled Event feature that is enabled has the ability to generate a new ticket at pre-defined times or on a recurring schedule.
Reports
In some cases, you may want reports to be sent through email to external users or non-admin internal users. For cases like this, you can enable Reports to be scheduled to be auto-delivered during and surrounding criteria that you have pre-defined through Scheduled Events.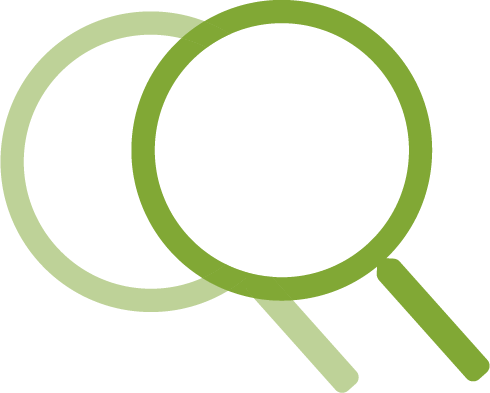 Set Up Recurring Searches
Utilize our Recurring Search feature within Scheduled Events. Recurring Search can be scheduled to run at specified times or on a pre-defined schedule at a daily, weekly, monthly, or even yearly level. Recurring Searches can be set up by any user level.
Apps and Add-ons
Extend Revelation to the productivity apps you use every day or take it with you when you are away from your desk.
No additional purchase required.
See Your Data
Knowing what happened in the past? Pretty neat. Knowing what will happen in the future? Priceless. Our powerful reporting will organize and show data in an easy to read visual format, so that you can make decisions with more knowledge and confidence.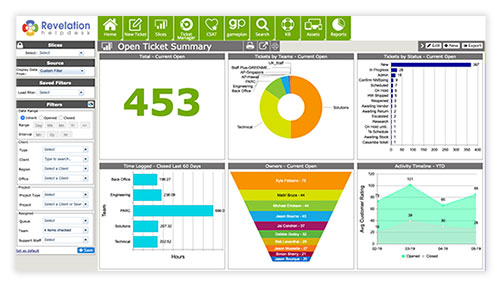 Slice your data any way you like to view charts for open tickets, response times, end users, and more, with our new and improved reporting tool, Slices.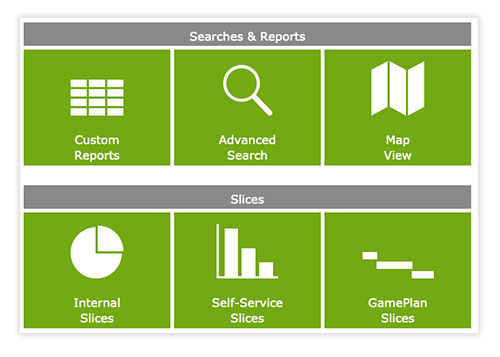 Revelation helpdesk is packed with different reporting options, so that you can view data the way you want. Create your own reporting dashboard with our tool, Slices, or create your own custom reports.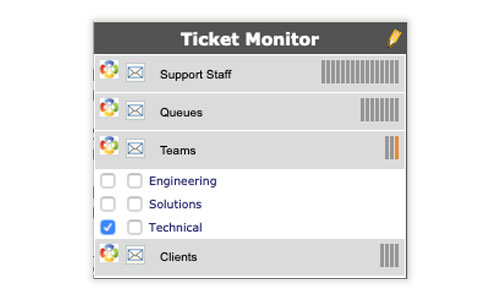 View a group of tickets or individual user tickets with our Ticket Monitor checklist on your home page.

This interactive bar lets you know the current state of your tickets and what to look out for in the coming future. More than just a display, you can even use it to view and/or edit specific sets of tickets.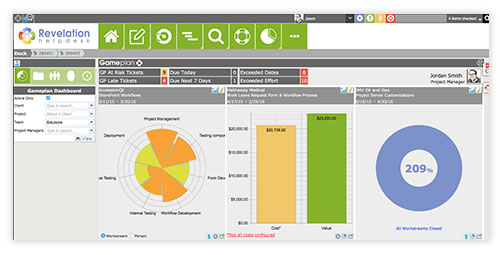 Revelation helpdesk also offers Project Tracking and Reporting with our gameplan add-on.

Extend your reporting with Power BI
Power BI is a business analytics service by Microsoft. Revelation reporting can be extended for more complex visualizations and BI reports using this toolset.
Customer Satisfaction
Getting quality data on Customer Feedback and ensuring Customer Satisfaction is important. Revelation helpdesk provides Customer Satisfaction reporting on customer feed back surveys, so you can help your team improve your overall customer performance.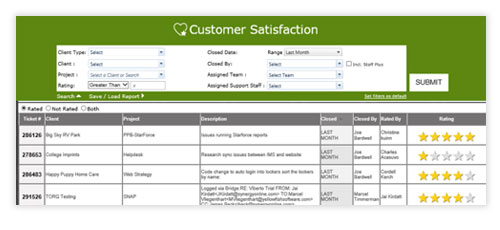 Revelation provides a 5-Star Rating system for your users to rate their performance on a specific ticket.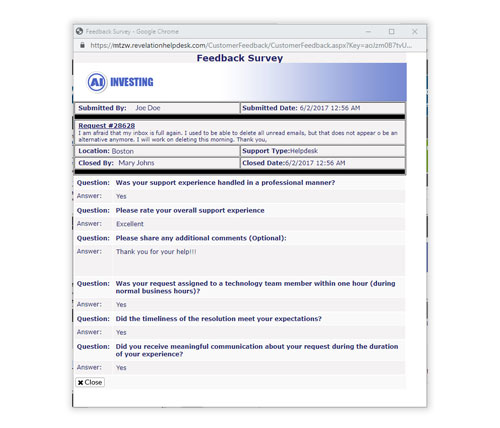 Feedback Surveys are forms which can be created and delivered to a user when a ticket is closed. These surveys are created by administrators and can be auto sent out by project level or manually sent out.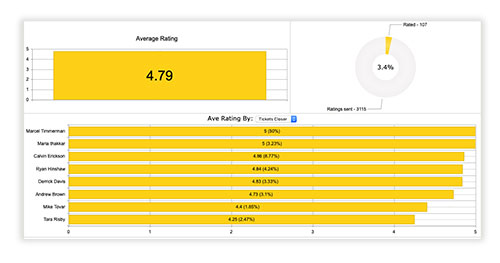 All responses for surveys and the 5-Star rating system are available to view in Revelation's Reporting section or by enabling the CSAT reporting feature button for your home navigation.
gameplan
In today's work culture, many organizations are being asked to do more with their existing tools instead of buying and implementing new software. The Revelation team have noticed a growing trend amongst our customers, to use Revelation helpdesk as more than a ticket tracking system. Many customers are also tracking time and activity on long-and short-term projects.
gameplan enables real-time project tracking within Revelation. By enabling gameplan features within a standard project, you now define separate phases or Workstreams each with their own start and end dates. Within each phase you can assign tasks to your staff and estimate how much time it should take. Then as tasks are completed you can visually track performance, specifically:
Overall project completion, individual phase completion and even person by person work load completion
Compare initial time estimates with work assigned and actual time logged
View Gantt-style charts for each project and/or team indicating overall scope and current progress
Compare actual cost to value (if you sell your projects or time)
View staff availability on week by week basis so you can assign new work appropriately
Not to be confused with an enterprise level project management tool like MS Project, gameplan is designed to give you true real time insights by surfacing your project data visually and enabling you to stay on top of your timelines and work effort. By allowing you to define, assign & track multiple projects at the same time you can get a true sense of what is on time and what is not, simply and visually.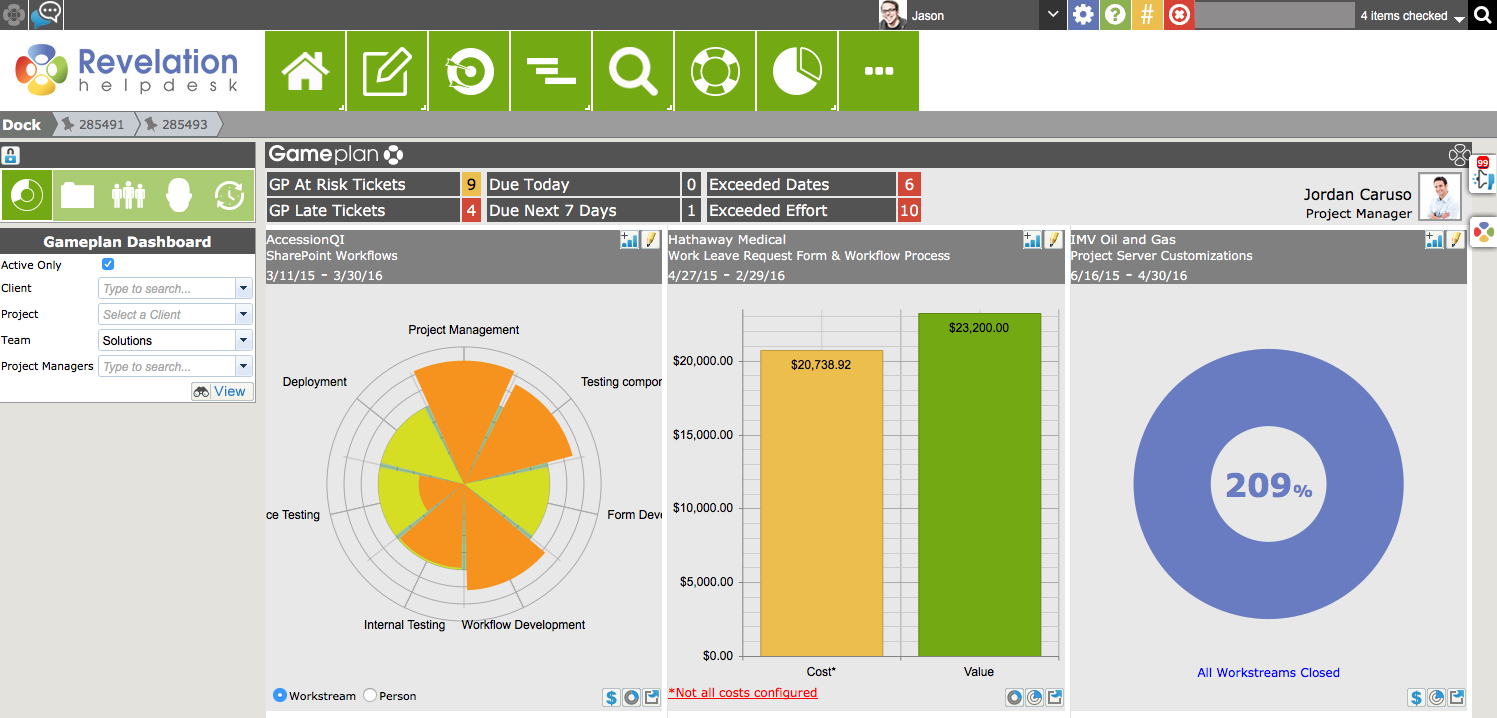 The gameplan dashboard acts as a centralized location where you can receive high level insight on all of your gameplan enabled projects.
This powerful project tracking dashboard shows you how complete (or not) each project is. With multiple views, you can look at the status of all of your active projects or choose to drill in and see which project Workstreams are complete, which members of staff are done with their tasks and which are not.
Within the dashboard, you can see also configure and choose to see the Cost vs Value for each project.

The dashboard also gives you direct insight to gameplan tickets so you can easily see any of the following across active projects:
Tickets at Risk
Late Tickets
Tickets Due Today
Ticket Due Next 7 days
Tickets where work occurred outside the assigned dates
Tickets where work hours exceeded the assigned estimate
You can also choose to add gameplan charts to any internal dashboard to view the information wherever Dashboards are available.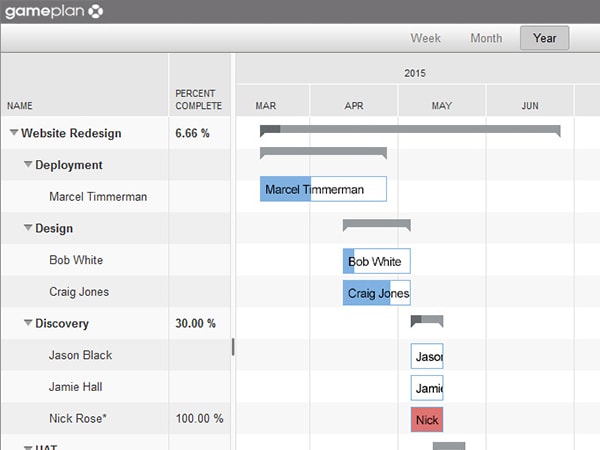 A detailed project tracking overview is available where you can view details on an active project in a Gantt chart. Each phase and task shown indicates visually how complete it is and when it is due.
Provides Gantt view by Week, Month or Year for each project, and can drill down by Workstream or Resource.
The Gannt View includes auto calculated percentage complete.
Additionally, if you hover over the resource, you will see the number of tickets opened for that resource within the Workstream and hours logged to date vs remaining hours.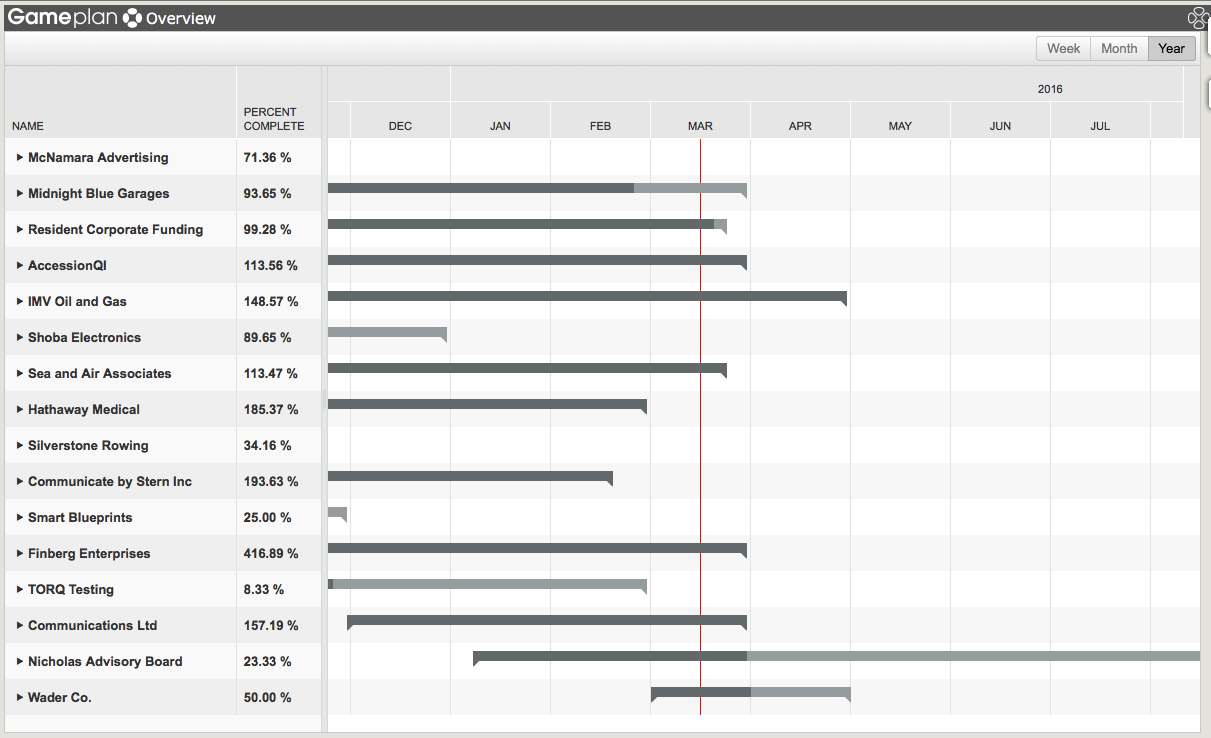 For project tracking across projects. View high-level detail on multiple projects.
Provides you with details on number of Workstream, number of tickets within the Workstream, hours logged and the remaining hours.

Assign work intelligently by understanding on a week-by-week basis how busy (or not) each resource is.
The availability chart displays current workload as a percentage of available time based on working hours associated to a project.
Provides team's availability by Day, Week or Month, which can enable Project Managers to make informative decisions and plan for future projects.
Note: The time displayed in the grid is for gameplan tickets only. It doesn't include time for non-gameplan tickets.

For project tracking across projects. View high-level detail on multiple projects.
Enables you to compare: initial project work estimate against actual hours assigned to your resources against how much work they actually did.
This report displays the Initial Credit, Assigned hours and Logged Hours.
Provides visual and insight to estimated versus logged hours and how many hours we went over for the project.



gameplan is not only for project administrators. Active gameplan projects show your resources useful information relating to their assigned activities, enabling them to make better decisions and encouraging them to better communicate to the project manager.
You can see resource allocations on screen.
You can see visual guides telling you about the ticket, the Workstream (the ticket is a part of) or the gameplan project as a whole.
If your allocated effort has been exceeded, the Action Note will notify you while still allowing you log your time.
Want to know more about Revelation helpdesk and how it can help you?
Schedule a Demo